People active in the silent era and people who keep the silent era alive.
Copyright © 1999-2018 by Carl Bennett and the Silent Era Company.
All Rights Reserved.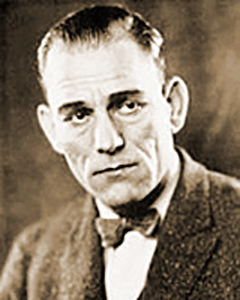 Photograph: Silent Era image collection.
Lon Chaney
Born 1 April 1883 in Colorado Springs, Colorado, USA, as Leonidas Frank Chaney.
Died 26 August 1930 in Hollywood, California, USA, of lung cancer.
Brother of stage actor John Chaney.
Married Frances [?] ?, 31 May 1905; son, Creighton Tull Chaney (later, actor Lon Chaney Jr.), born 10 February 1906; divorced, April 1914.
Married Hazel Hastings, November 1914; until Lon's death, 26 August 1930.
Lon Chaney began his film career in in 1913 for Independent Moving Pictures Company, Incorporated. It was not long before Chaney stood out as a supporting player, and some writers today attribute his acting skills to his early family life communicating with his deaf parents. His forte as a character actor soon required Chaney's advancing development of increasingly exotic makeup at a time when actors applied their own foundation colors, eye and brow enhancements, wigs, beards and face-altering putties. Chaney's experimentation with makeup eventually led to his being dubbed "the man of a thousand faces," culminating with his most famous makeup achievements in The Hunchback of Notre Dame (1923) and The Phantom of the Opera (1925).
Circa 1922-1923, Lon Chaney was represented by business manager Alfred A. Grasso, who maintained offices at 3459 Plata Street, Los Angeles, California.
Chaney briefly established his own film production company, then returned to studio work as a freelance actor for Goldwyn and Universal. His renowned teamings with director Tod Browning resulted in a number of gritty crime dramas. Chaney began working for Metro-Goldwyn-Mayer Pictures Corporation, his final studio home, eventually reteaming there with Browning. Chaney succumbed to lung cancer at the dawn of the sound era. His final film, a sound remake of The Unholy Three (1925), can still be viewed today.
References: FilmDaily-1923 p. 160 : Website-IMDb.