People active in the silent era and people who keep the silent era alive.
Copyright © 1999-2018 by Carl Bennett and the Silent Era Company.
All Rights Reserved.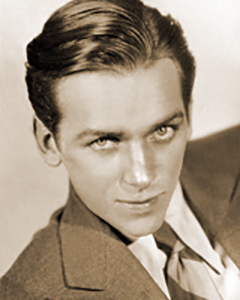 Photograph: Silent Era image collection.
Douglas Fairbanks Jr.


Born 9 December 1909 in New York, New York, USA, as Douglas Elton Fairbanks Jr.
Died 7 May 2000 in New York, New York, USA.
Son of actor Douglas Fairbanks.
Married actress Joan Crawford, 3 June 1929 in New York, New York, USA; divorced, 1933.
Married Mary Lee Eppling Hartford, 22 April 1939; daughter, Daphne Fairbanks; daughter, Victoria Fairbanks; daughter, Melissa Fairbanks; until Mary's death, 1988.
Married Vera Shelton, 30 May 1991; until Douglas' death, 7 May 2000.
References: Website-Wikipedia.