People active in the silent era and people who keep the silent era alive.
Copyright © 1999-2018 by Carl Bennett and the Silent Era Company.
All Rights Reserved.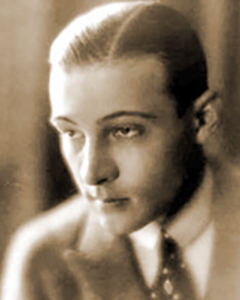 Photograph: Silent Era image collection.
Rudolph Valentino
(same as Rodolpho Valentino, Rudolph Valentine)
Born 10 May 1895 in Castellaneta, Italy, as Rodolpho Gugliemi.
Died 23 August 1926 in New York, New York, USA, of complications from operation for appendicitis and peritonitis.
Married actress Jean Acker, 6 November 1919; divorced, 4 March 1923.
Married designer Natacha Rambova.
References: Website-IMDb.