People active in the silent era and people who keep the silent era alive.
Copyright © 1999-2018 by Carl Bennett and the Silent Era Company.
All Rights Reserved.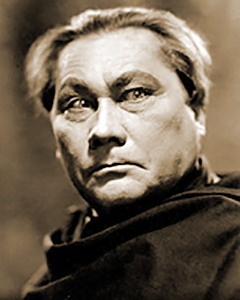 Photograph: Silent Era image collection.
Paul Wegener
Born 11 December 1874 Arnoldsdorf, West Prussia, Germany
(now known as Jarantowice, Kujawsko-Pomorskie, Poland).
Died 13 September 1948 in Berlin, Germany.
Married Ida Ahlers 1896; divorced 1898.
Married Elisabeth Rohwer.
Married Änny Hindermann 1903; divorced ?
Married actress Lyda Salmonova; divorced 1924.
Married actress Greta Schröder October 1924; divorced ?
Paul Wegener started his young adult life studying law and art history. With the addition of acting classes, Wegener started down his professional path. His interest in acting brought him to Max Reinhardt's Deutsches Theatre in Berlin, where he performed from 1906-1920.
Wegener's film debut was in Der Student von Prag (1913). Wegener is known today for directing and acting in his golem films based on Jewish legend, Der Golem (1914), Der Golem und die Tänzerin (1917) and, famously, Der Golem, wie er in die Welt kam (1920).
References: Website-IMDb.