People active in the silent era and people who keep the silent era alive.
Copyright © 1999-2018 by Carl Bennett and the Silent Era Company.
All Rights Reserved.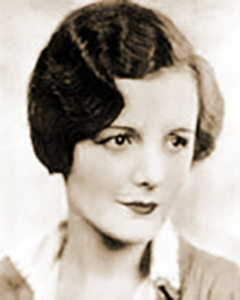 Photograph: Silent Era image collection.
Mary Astor


Born 3 May 1906 in Quincy, Illinois, USA, as Lucile Vasconcells Langhanke.
Died 25 September 1987 in Woodland Hills, California, USA, of a heart attack.
Married director Kenneth Hawks, 26 February 1928; until his death, 2 January 1930.
Married doctor Franklyn Thorpe, June 1931.
Lucile Vasconcells Langhanke, the beautiful young girl from Illinois came to the attention of film producers in 1920, at the age of 14, while participating in a beauty pageant. Accepting small film roles in 1921, Lucile was cut from her first film Sentimental Tommy (1921), a feature film for Famous Players-Lasky Corporation, ending up on the cutting room floor. But persistence paid off gradually as she continued working in low-budget short films and soon graduated to supporting roles in feature films. The striking actress was by then renamed Mary Astor.
Mary's big break came in 1924 when she was cast as John Barrymore's leading lady in Beau Brummel (1924) for Warner Brothers. It should be no surprise that the dashing Barrymore was attracted to his teenage costar and that she should be infatuated with the screen and stage legend, but their affair lasted only until he became amorously attached to Dolores Costello, whom he married in 1928. Regardless of their broken romance, Barrymore and Astor appeared together successfully in Don Juan (1926).
Mary's career was a success as she appeared or starred in a series of feature films from 1924 through 1926, including Douglas Fairbanks' Don Q, Son of Zorro (1925). In 1924, Mary worked for Famous Players-Lasky, Warner Brothers Pictures, Incorporated, First National Pictures, Incorporated, and Universal Pictures Corporation. In 1925 and 1926, she worked for First National. In 1927, she worked for First National, Paramount and Caddo. In 1928, she worked for First National and Fox Film Corporation. In 1929, she worked for Fox. By the end of 1929 Mary had appeared in 44 short and feature films.
Mary continued working in films during the golden era of the 1930s and 1940s, and is best known for her role as Brigid O'Shaughnessy opposite Humphrey Bogart in The Maltese Falcon (1941). Her final feature film was Hush, Hush, Sweet Charlotte (1965).
Mary Astor wrote two autobiographical books: My Story: An Autobiography (1959) and A Life on Film (1971). Mary passed away in 1987 at the age of 81.