People active in the silent era and people who keep the silent era alive.
Copyright © 1999-2018 by Carl Bennett and the Silent Era Company.
All Rights Reserved.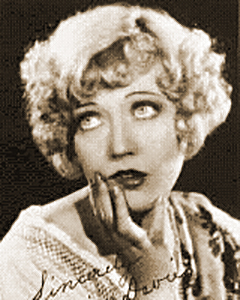 Photograph: Silent Era image collection.
Marion Davies
Born 3 January 1897 in Brooklyn, New York, USA, as Marion Cecelia Douras.
Died 22 September 1961 in Hollywood, California, USA, of cancer.
Sister of actress Reine Davies.
Married Horace G. Brown, 31 October 1951; until Marion's death, 22 September 1961.
Marion Davies is infamous as the mistress of newspaper mogul William Randolph Hearst. In recent years, her film career has been favorably reassessed for her charming comedic performances.
References: Website-IMDb.