People active in the silent era and people who keep the silent era alive.
Copyright © 1999-2018 by Carl Bennett and the Silent Era Company.
All Rights Reserved.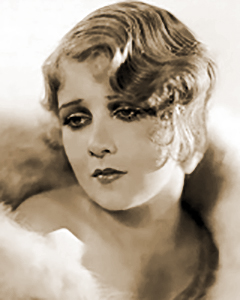 Photograph: Silent Era image collection.
Anita Page
Born 4 August 1910 in Flushing, New York, USA, as Anita Evelyn Pomares.
Died 6 September 2008 in Van Nuys, California, USA.
Married composer Nacio Herb Brown, 26 July 1934; annulled, 5 April 1935.
Married Herschel House, 9 January 1937; two children; until Herschel's death, 31 December 1991.
Anita Page began her film career late in the silent era, appearing in a number of MGM productions including her first feature film starring role Telling the World (1928), Our Dancing Daughters (1928), While the City Sleeps (1928), Our Modern Maidens (1929), and the Academy Award winning sound musical The Broadway Melody (1929).
Page was active in motion pictures until the mid-1930s, her film career spanned her entire life with periodic work after her semi-retirement. Page appeared in her last film production in 2008.
References: Website-IMDb.
Watch a 1996 interview conducted by Carole Langer with Anita Page (videography by Luke Sacher):