People active in the silent era and people who keep the silent era alive.
Copyright © 1999-2018 by Carl Bennett and the Silent Era Company.
All Rights Reserved.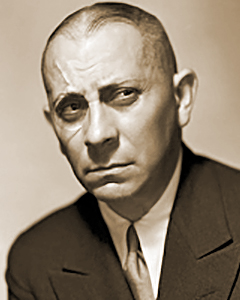 Photograph: Silent Era image collection.
Erich von Stroheim
(same as Eric Von Stroheim, Eric O.H. von Stroheim, and Count von Stroheim)


Born 22 September 1885 in Vienna, Austria, as Erich Oswald Stroheim.
Died 12 May 1957 in Paris, France, of cancer.
Son of Benno Stroheim and Johanna Bondy.
Married Margaret Knox, February 1913; divorced, 1914. Married May Jones, 1916?; son, Erich von Stroheim Jr.; divorced, July? 1919.
Married actress Valerie Germonprez, early 1920?; son, Joseph Erich von Stroheim, born 1922; separated, 1936?
Erich von Stroheim emigrated to the USA in 1910. Began working in films in 1914. Worked for D.W. Griffith, Douglas Fairbanks and others at The Fine Arts Film Company as an actor, writer, set decorator and technical advisor through the mid to late 1910s.
Began as a director at The Universal Film Manufacturing Company, Incorporated, where he wrote and directed Blind Husbands (1919), The Devil's Pass Key (1920) and Foolish Wives (1922). These films were the last by Stroheim that were released much as he had directed and edited them. After conflicts with Carl Laemmle and Irving Thalberg over the production of Merry-Go-Round (1923), von Stroheim signed with Goldwyn Pictures Corporation and began his most ambitious project, based on the novel McTeague by Frank Norris, Greed (1924). Originaly cut to 42 reels in length, the film was eventually butchered by Metro-Goldwyn when it was reduced to standard feature film length. Convinced to stay with the new MGM studio, von Stroheim directed The Merry Widow (1925), but the film was again edited by other hands at Irving Thalberg's insistance.
Idle after leaving MGM, he began the project eventually known as The Wedding March (1928) for independent producer Pat Powers and for Paramount release. As production schedules were grew seriously late and costs escalated, the film was shut down after shooting only the first half of the story. Hired by star Gloria Swanson and producer Joseph P. Kennedy, Stroheim wrote and directed Queen Kelly (1929), another film killed during production and never completed to anyone's satisfaction.