Reviews of silent film releases on home video.
Copyright © 1999-2018 by Carl Bennett
and the Silent Era Company.
All Rights Reserved.

Asphalt
(1929)

Among the last great German silents is Joe May's Asphalt (1929), a tale of the grinding friction between the criminal and lawful worlds of Berlin that is, at its heart, a simple love story — all wrapped in striking expressionist visuals.

Albert Holk (Gustav Fröhlich, of Metropolis fame), a traffic policeman, meets Else Heller (Betty Amann) as she accused on the street of gem theft. A search reveals the stolen gem and Holk is forced to arrest her. Her pleas for mercy are nearly fruitless until Holk is persuaded to follow her to her apartment, from which she is to be evicted the following day. Or so the story goes . . .

Meanwhile, thieves break into a Parisian bank vault right under the noses of the police and their leader, Langen (Hans Adalbert Schlettow) writes to Else that he is returning to Berlin.

Much as he would like to resist it (in a standout moment in the film when she hands him his hat to leave but won't let go of it) Albert acknowledges he has fallen in love with Else, and he soon proposes marriage. In a fleeting moment Else imagines leaving her criminal life for love but realizes that she cannot escape her past, and she tries to convince Albert he must leave forever by proving that she has lied to him about her poverty. When he turns to go, she leaps at him beg for forgiveness — just as Langen lets himself into her apartment. A room-trashing fight ensues resulting in the murder of Langen.

Albert returns home and confesses to his parents. His father, a police chief sergeant, arrests Albert from his mother's embrace. Dutifully, Albert follows to the police station. Else soon arrives at the Holk apartment asking for Albert. While giving his statement to police, Albert's mother bursts in with Else, who will testify it was self-defence.

Asphalt is a masterful example of film direction, with Joe May's self-conscious and, at times, very mobile camera a mute but eloquent narrator. Moving from object to object within a room the camera allows the viewer to quickly assertain a character's back story. At other times, static close-ups allow the actors to subtly progress from thought to thought in a rich, succinct succession of emotions. The performances of both Amann and Fröhlich, with May's direction, are the depth of the film, which is surprisingly spare of plot.

Previously, Asphalt was known to have survived only in an abridged version with English language intertitles. In 1993, Berlin's Stiftung Deutsche Kinemathek discovered that a print of Asphalt had survived in Moscow's Gosfilmofond film archive, which appeared to have been struck from the original German negative. The Gosfilmofond print presented a different — and what appeared to be the original — continuity along with German intertitles that did not appear in any form in any other surviving prints. — Carl Bennett
Kino on Video
2006 DVD edition

Asphalt (1929), black & white, 93 minutes, not rated.

Kino International, K464, UPC 7-38329-04642-2.
One single-sided, dual-layered, Region 0 NTSC DVD disc, 1.33:1 aspect ratio image in full-frame 4:3 (720 x 480 pixels) interlaced scan MPEG-2 format, ? Mbps average video bit rate, ? kbps audio bit rate, Dolby Digital 2.0 stereo sound, English language intertitles, no foreign language subtitles, chapter stops; standard DVD keepcase, $29.95.
Release date: 18 July 2006.
Country of origin: USA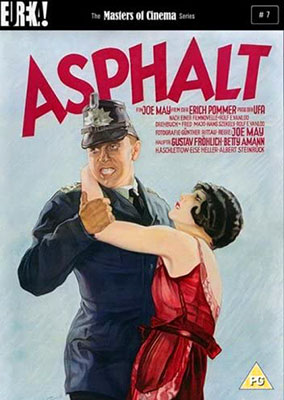 Eureka Entertainment
2005 DVD edition

Asphalt (1929), black & white, 90 minutes, BBFC Classification PG.

Eureka Entertainment, EKA40088 (MoC 7), UPC 5-060000-400885.
One single-sided, dual-layered, Region 2 PAL DVD disc, 1.33:1 aspect ratio image in full-frame 4:3 (720 x 480 pixels) interlaced? scan MPEG-2 format, 7 Mbps average video bit rate, ? kbps audio bit rate, Dolby Digital 2.0 mono sound, German language intertitles, optional English language subtitles, 12 chapter stops; standard DVD keepcase, £19.99.
Release date: 18 April 2005.
Country of origin: England

Ratings (1-10): video: 8 / audio: 8 / additional content: 7 / overall: 8.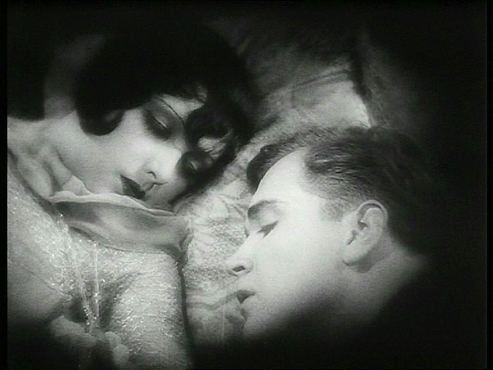 This first DVD edition of Joe May's last silent film features a new video transfer from restored materials, sourced chiefly if not solely from the Gosfilmofond 35mm positive, that include the original German intertitles. The quality of the source material varies from shot to shot, with some excellent footage paired with other that has a mildly-pronounced film grain.
The film is accompanied by a highly-entertaining new orchestral music score by Karl-Ernst Sasse.
The disc features optional English language subtitles, a stills gallery (9 images), and a 16-page color booklet with a new essay by film historian R. Dixon Smith.
North American collectors will need a region-free PAL DVD player capable of outputting an NTSC-compatible signal to view this edition.
| | |
| --- | --- |
| United Kingdom: Click the logomark to purchase this Region 2 PAL DVD edition from Amazon.co.uk. Your purchase supports Silent Era. | |