Reviews of silent film releases on home video.
Copyright © 1999-2018 by Carl Bennett
and the Silent Era Company.
All Rights Reserved.

Arbuckle & Keaton
Volume One
(1917-1919)

Contents: The Bellboy (1918), The Butcher Boy (1917), Out West (1918), Moonshine (1918) and The Hayseed (1919).

In The Bellboy (1918), Roscoe and Buster work with Al in a small-town hotel named the Elk's Head. Roscoe (a bellboy and part-time barber) gets distracted by Miss Cuticle (the hotel's new manicurist), and competes with Buster and Al for her attentions. Roscoe is charming and Buster is a great sidekick. Between the two of them a handful of funny gags reel out, including a routine with Buster's father Joe who cannot get through the hotel lobby with his top hat on. A running Al St. John manages miraculously to somersault over the back of a dinner chair and come to a complete stop casually seated. A couple of anti-German gags speak of the times in which this comedy was made.

The Butcher Boy (1917) is well known to be Buster Keaton's screen debut, with Roscoe and Al working in a general store and Buster as a patron. Luke the dog supports. A chapter stop cues to Buster's first entrance, leading to the famous molasses sequence. The second half of the film provides an opportunity for Roscoe and Al to dress in drag at an all-girls private school. While Buster was a supporting character here in his first film, other films in the volume show that Buster quickly became Roscoe's second banana and a comic equal.

Out West (1918) is a self-conscious western comedy, full of laughs and parodies of the western genre's well-worn (even in 1918) conventions. Roscoe is chased from a train and must endure the desert and indian attacks before stumbling into the saloon where Buster is a cigar-smoking gunslinger and Al is the villain once again. There are gunfights and acrobatics. A Salvation Army gal becomes the object of Al and Buster's competing attentions.

Moonshine (1918) is a tale of Virginia moonshiners and the citified federal revenuers Roscoe and Buster, dressed as hill folk, who are out to catch them. Alice Lake portrays the love interest of Roscoe and the grimy hillbilly Al. The captured Roscoe temporarily outwits the moonshiners by employing catsup to play dead. The film, like Out West, is another self-conscious film making fun of itself by referring openly in its intertitles to film extras and its pseudo-dramatic scenes.

The Hayseed (1919) features Roscoe as the mail-carrying employee of yet another small-town general store. He is sweet on Fanny, a fun-loving farm girl. The town's corrupt constable manages to frame Roscoe with accusations of a stolen letter that contained $300. Buster, meanwhile, attempts to foil the constable's attempts to come between Roscoe and Fanny. Roscoe has trouble convincing everyone, including Luke the dog, that he didn't steal the letter. Someone else will have to explain the sign "No end to our pretzels" seen on the general store wall.

Part of the attraction of an Arbuckle film is the occasional gag bit of business or juggling stunt from Roscoe, who performs his one-handed cigarette rolling gag in two of the films included in this volume. Roscoe performs some dazzlingly accurate tosses with meat and knife in The Butcher Boy, and adeptly flips a hat onto Buster's waiting head in Out West. — Carl Bennett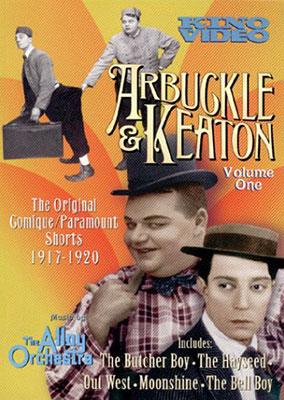 Kino on Video
2001 DVD edition

Arbuckle & Keaton, Volume One (1917-1919), black & white, 125 minutes total, not rated,
including The Bellboy (1918), black & white, ? minutes, not rated, The Butcher Boy (1917), black & white, ? minutes, not rated, Out West (1918), black & white, ? minutes, not rated, Moonshine (1918), black & white, ? minutes, not rated, and The Hayseed (1919), black & white, ? minutes, not rated.

Kino International, K204, UPC 7-38329-02042-2.
One single-sided, single-layered, Region 0 NTSC DVD disc, 1.33:1 aspect ratio image in full-frame 4:3 (720 x 480 pixels) interlaced scan MPEG-2 format, 4 Mbps average video bit rate, 192 kbps audio bit rate, Dolby Digital stereo sound, English language intertitles, no foreign language subtitles, chapter stops; standard DVD keepcase, $29.95.
Release date: 10 April 2001.
Country of origin: USA

Ratings (1-10): video: 8 / audio: 7 / additional content: 0 / overall: 8.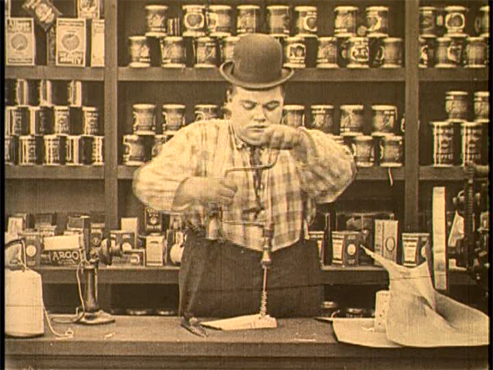 The 2001 announcement of Kino International's two-volume DVD collection of short films featuring Roscoe Arbuckle and Buster Keaton was a cause for excited anticipation. After all, the Kino editions of Buster Keaton's films on DVD were, for the most part, great. Upon inspecting this first volume we can honestly say that its release is an occasion for celebration.
For years many of the Arbuckle films made for Keystone Film Company have been available in public-domain home video editions and are familiar to many silent film enthusiasts. But opportunities to view the Arbuckle Comique shorts and features have been difficult to come by, and the films have been nearly impossible to acquire on home video. We now have an opportunity to enjoy ten comedies between these two Kino DVD volumes that were made during Arbuckle's mid-career phase (post-Keystone yet prior to his move into feature films) and at the beginning of Keaton's film career. And, with the rumored demise of some of these films, it is pleasing that most of the films in this collection look so good.
Generally the 35mm prints utilized for the video transfers are in good to very good condition, with generally some light scuffing, scratches and speckling, some exposure fluctuations and frame jitters, but with well-defined visual detail. The transfers are generously framed (except for Moonshine, which seems a little pinched by the original 16mm print framing) and are transferred at proper running speeds. The grey values of the original prints and of the video transfer are broad, with occasional highlight detail burn out. Shadow values are open and well defined.
The roughest 35mm print in the volume is Out West, with its sometimes contrasty and choppy print. It's worth nothing that the print of Out West is unfortunately missing footage where Roscoe, as the new bartender, uses the rattling hands of a frightened man to shake a cocktail mixer. Throughout the volume the transfers are color tinted in pale tones of yellow and blue, with some color-toned sequences. All main titles and intertitles appear to have been digitally reconstructed in authentic-looking borders and typefonts, with the exception of The Hayseed which utilizes the off-center intertitles of a 35mm reissue print.
Moonshine has apparently only survived as a contrasty 16mm reduction print, with burnt-out highlights and distracting exposure fluctuations. Some frames are good, others are over exposed. But the action is easy to follow and we're happy that the film has survived in any form. As with most 16mm reduction prints, the film is tightly cropped and sometimes lops the top of heads off.
The Alloy Orchestra has provided unorthodox music scores for the entire Kino Arbuckle-Keaton series, and all of the shorts include some punctuating sound effects that are well synchronized to the action. The music for the molasses scene in The Butcher Boy brings to mind the quirky CD releases of Muzic for Insomniaks by Devo's Mark Mothersbaugh. And because quirky perhaps best describes the music here, we can confidently say that some viewers will dislike the music scores. However, we personally enjoy The Alloy Orchestra's unusual approaches to silent film accompaniment and urge reticent viewers to give the DVD several spins before coming to a final judgment on the music.
While a few of the films collected here have previously been released on home video (mostly in substandard editions by public-domain companies), they have never looked this good. The films presented in this volume are noted in the DVD packaging as being licensed from Douris UK Limited, former holders of the Raymond Rohauer collection (now held by the Cohen Media Group). The huge Rohauer collection contains many of the finest prints of the films of Buster Keaton, with many of the original 35mm prints coming from Buster's personal collection. This Kino edition of Arbuckle-Keaton films, produced by Bret Wood, is definitely worth acquiring if you are a fan of Roscoe and Buster comedies. We highly recommend this DVD.
USA: Click the logomark to purchase this Region 0 NTSC DVD edition from Amazon.com. Your purchase supports the Silent Era website.
Canada: Click the logomark to purchase this Region 0 NTSC DVD edition from Amazon.ca. Your purchase supports the Silent Era website.