Reviews of silent film releases on home video.
Copyright © 1999-2018 by Carl Bennett
and the Silent Era Company.
All Rights Reserved.
Four Films with
Asta Nielsen
(1913-1916)
Contents: Die Suffragette (1913), Das Liebes-A.B.C. (1916), Das Eskimobaby (1916) and Die Börsenkönigin (1916).
This collection of feature films starring Asta Nielsen will showcase her famed acting talents beyond her well-known appearance in The Joyless Street (1925).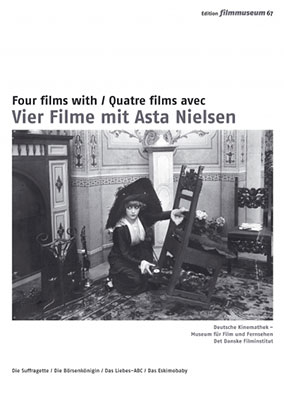 Edition Filmmuseum
2012 DVD edition

Vier Filme mit Asta Nielsen [Four Films with Asta Nielsen] (1913-1916), black & white, 234 minutes total, not rated,
including Die Suffragette (1913), black & white, 61 minutes, not rated, Das Liebes-A.B.C. (1916), black & white, 50 minutes, not rated, Das Eskimobaby (1916), black & white, 70 minutes, not rated, and Die Börsenkönigin (1916), color-tinted black & white, 63 minutes, not rated.

Edition Filmmuseum, 67, unknown UPC number.
Two single-sided, dual-layered, Region 0 PAL DVD discs, 1.33:1 aspect ratio image in full-frame 4:3 (? x ? pixels) interlaced scan MPEG-2 format, ? Mbps average video bit rate, ? kbps audio bit rate, Dolby Digital 2.0 stereo sound, German language intertitles, optional English, French and Spanish language subtitles, chapter stops; dual-disc DVD keepcase, €29,95.
Release date: June 2012
Country of origin: Germany