Silent Era Home Page > Home Video > The Passion of Joan of Arc

Reviews of silent film releases on home video.
Copyright © 1999-2017 by Carl Bennett
and the Silent Era Company.
All Rights Reserved.

The Passion of
Joan of Arc
(1928)

La Passion et la mort de Jeanne d'Arc (1928) is one of the most artistically mature and influential films of the silent cinema. We feel that it is the Citizen Kane of the silent era. Its groundbreaking use of close-ups marked a dramatic departure from the filmmaking conventions of its time. Films like this make us wish that the sound era could have waited another five years to become popular. The world cinema had just developed a rich and mature vocabulary when it was silenced forever by the din of the talkies. This is an absolutely stunning film.

The film is beautifully filmed and the story is told almost entirely in close-up shots, tracking shots and dynamically angled shots. The film's unusual shot framing still looks fresh to modern eyes. Every shot is a visual feast. Low camera-angle shots emphasize the anglar placement of actors in the image frame and also reveal early ceilings to the sparse and slightly askew sets by Hermann Warm. Some camera set-ups emphasize the geometric forms of props and set details. Actors' faces are the focal point near a frame edge in shots where much of the frame is negative white space. Dreyer almost appears to have designed and selected shots based on dynamic symmetry, a design discipline popular in the early 20th century that emphasizes the focal point of an image somewhere off-center yet rigidly established somewhere on a mathematically calculated spiral within a rectangle.

The original negative was lost to fire in 1928. Dreyer assembled a replacement negative utilizing alternate takes. That negative is also thought to have burnt. For years considered a lost film, and then only available in a truncated and altered version, an early nitrate print of La Passion et la Mort de Jeanne d'Arc was recovered from a Norwegian mental institution in 1981 in nearly-perfect condition. — Carl Bennett

Eureka Entertainment
2012 Blu-ray Disc edition

The Passion of Joan of Arc (1928), black & white, 97 minutes, BBFC Certification PG.

Eureka Entertainment,
EKA70085 (MoC 50), UPC 5-060000-700855.
One single-sided, dual-layered, Region B Blu-ray Disc, 1.33:1 aspect ratio image in pillarboxed 16:9 (1920 x 1080 pixels) progressive scan AVCHD MPEG-4 format, ? Mbps average video bit rate, ? kbps audio bit rate, DTS HD 2.0 stereo sound, Danish language intertitles, optional English language subtitles, chapter stops; standard BD keepcase with booklet in cardboard slipcase (also available in steelbook version), £19.95.
Release date: 26 November 2012.
Country of origin: England

Ratings (1-10): video: 10 / audio: 9 / additional content: 10 / overall: 10.
You should not pass up any opportunity to see one of the greatest films ever made, especially in this fantastic high-definition edition. Since the 1981 recovery of an original 1928 Danish print from the closet of an Oslo mental institution, the world no longer has to experience this great film through truncated, substandard prints. And, by all rights, we shouldn't have a quality print of this film at all. But here we have an amazingly clear print of one of the boldest cinematic creations of the 20th century. A print, presented in HD, that is so detailed the viewer can easily see the texture of the actors' faces and of the clothing they wear.

This edition has been transferred at 2K resolution from the Danish Film Institute's duplicate 35mm preservation negative of the Oslo version. Various image defects such as speckling, dust, scuffing, print perforation in the image area, image instability and more have been digitally removed and repaired. The included restoration demonstration includes side-by-side and A/B comparisons to document the clean-up work for this edition.

The film can be viewed at 20FPS silent (as is thought to have been Dreyer's preference) with the accompanying score by Mie Yanashota performed on piano, or at 24FPS silent or with the accompanying Avant-Garde score by Loren Connors. One of the truncated prints of the film, known as the Lo Duca version, is also presented here at 24FPS from a 16mm reduction positive for comparison purposes as it contains alternate takes from the restoration version. No restoration work has been done on either the picture or the source print's soundtrack for the presentation of this version.

The edition is supplemented with a 100-page booklet that features articles by Jean Drum, Dale D. Drum, Hilda Doolittle, Luis Buñuel, André Bazin, Chris Marker, Casper Tybjerg and Carl Theodore Dreyer, frame enlargements from version comparisons, and a contemporary interview with Antonin Artaud.

With unabashed enthusiasm, we highly recommend this fine home video edition. North American collectors will need a region-free Blu-ray Disc player to view this edition.

| | |
| --- | --- |
| United Kingdom: Click the logomark to purchase this Region B Blu-ray Disc edition from Amazon.co.uk. Your purchase supports Silent Era. | |

The Criterion Collection
1999 DVD edition

The Passion of Joan of Arc (1928), black & white, 82 minutes, not rated.

Criterion Collection, PAS030DVD, UPC 0-37429-13982-0.
One single-sided, dual-layered, Region 1 NTSC DVD disc, 1.33:1 aspect ratio image in full-frame 4:3 (720 x 480 pixels) interlaced scan MPEG-2 format, 4.75 Mbps average video bit rate, ? kbps audio bit rate, Dolby Digital 2.1 stereo sound, English language intertitles, no foreign language subtitles, 21 chapter stops; standard DVD keepcase, $39.95.
Release date: 9 November 1999.
Country of origin: USA

Ratings (1-10): video: 9 / audio: 9 / additional content: 10 / overall: 9.

This high-quality DVD edition has been mastered from the La Cinémathèque française restoration print that was completed in 1985. The Danske Filmmuseum in Copenhagen provided the complete but slightly worn 35mm positive print to La Cinémathèque française for restoration in the mid-1980s. The surviving footage, a version of director Carl Theodor Dreyer's original cut, well represents the original quality and visual intent of the film. The Danish intertitles of the source print were translated into French by Maurice Drouzy, presumably consulting contemporary sources. The restoration results, supervised by La Cinémathèque française's Vincent Pinel, are nothing short of spectacular.

For The Criterion Collection's edition of The Passion of Joan of Arc, additional digital clean-up of the video transfer, from the Cinémathèque française restoration print was performed to remove dust, scratches, visible splices, chemical spotting, etc. A few shots still reveal the fine patina of scuffing that lightly mars the highlights of the original print. As we have said, the original Danish print held a broad range of greytones and fantastic detail that is retained in this quality video transfer which, in its generous full-frame framing, is stunning — even though it could have benefitted from a higher average video bit rate and less MPEG-2 compression, which would have rendered an even smoother, more filmlike picture on HD monitors.

The Criterion producers have also chosen an oratorio entitled "Voices of Light" by composer Richard Einhorn to accompany the film. The classical music work was inspired by the Dreyer film and thus became a logical choice for music score. A short supplementary documentary on the composition and its pairing with the film for this home video edition has been included. Of note is Einhorn's inclusion of his personal recording of the church bell at Domremy, France — home village of Joan of Arc — in the recording of his composition. The performance is highlighted by the use of the classical vocal quartet, Anonymous 4, for the 'voice' of Joan in the music.

The supplementary materials include a valuable audio commentary by Casper Tybjerg, notes on the accompanying Einhorn music, interactive essay, multimedia history of the film's variant editions, and a section on the digital restoration which notes that, in all, 20,320 individual print flaws were digitally removed from the transfer.

Still a great-looking disc, we recommend this quality DVD home video edition of a truly great masterpiece of world cinema.

USA: Click the logomark to purchase this Region 1 NTSC DVD edition from Amazon.com. Your purchase supports the Silent Era website.
Canada: Click the logomark to purchase this Region 1 NTSC DVD edition from Amazon.ca. Your purchase supports the Silent Era website.

Other silent era CARL THEODOR DREYER films available on home video.

Other FRENCH FILMS of the silent era available on home video.

Other RELIGIOUS FILMS of the silent era available on home video.

Other FILMS FROM 1928 available on home video.
SUPPORT SILENT ERA
USING THESE LINKS
WHEN SHOPPING AT
AMAZON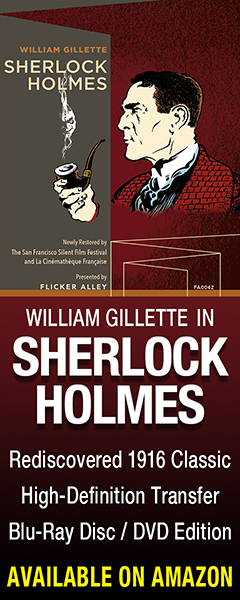 Silent Era Ads
Early Women Filmmakers: An International Anthology (1902-1943). Films by Blaché, Weber, Dulac and more!

AVAILABLE
from Amazon