Reviews of silent film releases on home video.
Copyright © 1999-2018 by Carl Bennett
and the Silent Era Company.
All Rights Reserved.

The Student
of Prague
(1926)

This remake of Hanns Heinz Ewers' Faustian story features Conrad Veidt and Werner Krauss as the student Balduin and his temptor Scapinelli. Many of the same story elements found in the original The Student of Prague (1913) are present here, indicating a fairly faithful adaptation of the source material.

In early 19th-century Prague, Balduin is a celebrated fencer and a student who is despondent over his lack of money. A rescue from a runaway horse brings Balduin together with the rich heiress Countess Margaret. An opportunistic Scapinelli approaches Balduin with an unusual offer of 600,000 pieces of gold in exchange for anything he wants from the student's apartment. If something seems to good to be true, it usually is. Scapinelli — Satan in disguise — takes control of Balduin's soul in the form of his solidified mirror reflection.

The now-rich Balduin begins living a life of extravagant dissipation, trying to prove himself worthy of the countess' love. A jealous encounter with Margaret's fiancé results in a duel challenege that Balduin is convinced to walk away from. But he is confronted at nearly every turn by his terrifiying doppelganger, a reminder of his horrid pact with the Devil. For all Balduin's effort to do what is right, it is undone when his corporeal double himself kills the baron in the duel. Balduin is expelled from the university, shunned by students, and rebuffed by the countess. Persued by his twin demon, Balduin retreats to his old apartment where the deal was struck, only to be defeated by evil in the end.

The Student of Prague is a story of class separation and Faustian retribution. The hopelessness of class advancement is the main theme in a film that punishes Balduin for seeking an easy and unearthly solution for his selfish brooding.

Veidt does a fine job of portraying the tragic student. Elizza La Porta makes a beautiful Liduscha, hopelessly in love with him. And Werner Krauss turns in another oddly quirky serio-comic performance as Scapinelli. — Carl Bennett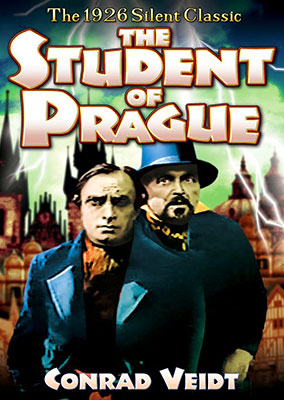 Alpha Video
2004 DVD edition

The Student of Prague (1926), black & white, 91 minutes, not rated.

Alpha Video, ALP 4498D, UPC 0-89218-44989-4.
One single-sided, single-layered, Region 0 NTSC DVD disc, 1.33:1 aspect ratio image in windowboxed 4:3 (720 x 480 pixels) interlaced scan MPEG-2 format, 5.5 Mbps average video bit rate, 192 kbps audio bit rate, Dolby Digital 2.0 stereo sound, English language intertitles, no foreign language subtitles, chapter stops; standard DVD keepcase, $6.98.
Release date: 28 September 2004.
Country of origin: USA

Ratings (1-10): video: 4 / audio: 4 / additional content: 0 / overall: 4.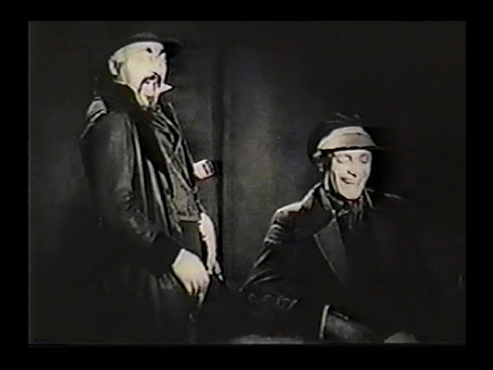 Alpha Video scored a minor coup by being the first to release this film in an American DVD home video edition. But, this edition will be little consolation for collectors who have waited for the film since this subpar budget disc has been mastered from a VHS videotape copy of a windowboxed video transfer of a good 16mm reduction print. While the source print is watchable, the disc borders on being not so with its smeary picture details being the result of the low resolution of VHS videotapes. Also characteristic of VHS is the slight color shifts into pale yellows and pinks in the light grey areas of the picture that are caused by analog video noise. The source print is compromized a bit by a number of splices that shorten shots and cause some confusing interruptions of the story's continuity, and the soft-detailed print is flecked with a moderate amount of dust, and flickers slightly from small exposure differences. The print is also compromised by a small amount of speckling and emulsion damage. The original transfer was made at sound film speed resulting in a film that runs faster than is tolerable, with the actors fidgeting about like jittery insects, and the reel beginning 57 minutes into the disc is noticibly out-of-focus, rendering a smeary mess of a picture for about 14 minutes. The disc would have been better had it been mastered from the original transfer master or, better yet, from a new video transfer of the source print.
The new musical accompaniment by Paul David Bergel is performed on synthesizers in a seemingly improvised circle of chord progressions. It is mind-numbingly dull, but better than a score of patched together prerecorded music that has nothing to do with the film it accompanies.
USA: Click the logomark to purchase this Region 0 NTSC DVD edition from Amazon.com. Your purchase supports the Silent Era website.
Canada: Click the logomark to purchase this Region 0 NTSC DVD edition from Amazon.ca. Your purchase supports the Silent Era website.