People active in the silent era and people who keep the silent era alive.
Copyright © 1999-2018 by Carl Bennett and the Silent Era Company.
All Rights Reserved.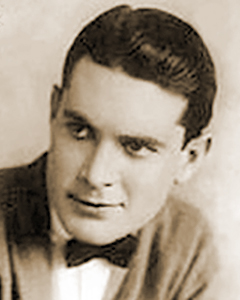 Photograph: Silent Era image collection.
Lloyd Hughes
Born 21 October 1897 in Bisbee, Arizona, USA.
Died 6 June 1958 in San Gabriel, California, USA.
Married actress Gloria Hope, 30 June 1921; son Donald Reid Hughes, born 21 October 1926;
daughter Isabel Frances Hughes, born 16 April 1932; until Lloyd's death, 6 June 1958.
Lloyd Hughes began acting in motion pictures in bit roles for Artcraft Pictures Corporation, American Film Company, Incorporated, and The Universal Film Manufacturing Company, Incorporated, in 1918. Steadily advancing to major film roles, Lloyd worked for Select Pictures Corporation (1919), Metro Pictures Corporation (1919), Famous Players-Lasky Corporation (1919), Thomas H. Ince Corporation (1918-1920) and King W. Vidor Productions (1921).
Acknowledging Hughes' rising appeal as a leading man, Mary Pickford selected Lloyd to be her love interest in Tess of the Storm Country (1922). Lloyd also earned the attention of major film directors, acting for King Vidor, Frank Borzage and Fred Niblo in the early 1920s.
An independent player throughout early 1920s, Hughes became something of a studio star for First National Pictures, Incorporated, working in the mid-1920s for a number of producers that distributed through the company. During the 1920s, his costars included popular actresses Colleen Moore, Mary Astor, Bebe Daniels, Claire Windsor, May McAvoy and others.
Today's audiences remember Hughes best for his key role as a go-getter newspaper reporter in the ground-breaking dinosaur special effects film The Lost World (1925).
Hughes successfully made the transition to sound films in the late 1920s and continued acting in motion pictures until his retirement from the industry in 1939.
References: Website-IMDb.