People active in the silent era and people who keep the silent era alive.
Copyright © 1999-2018 by Carl Bennett and the Silent Era Company.
All Rights Reserved.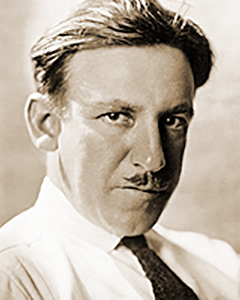 Photograph: Silent Era image collection.
Tod Browning
Born 12 July 1880 in Louisville, Kentucky, USA, as Charles Albert Browning Jr.
Died 6 October 1962 in Hollywood, California, USA.
Sone of Charles Albert Browning and Lydia Browning; nephew of baseball player Pete Browning.
Married Amy Louise Stevens, 1906; divorced, 1910.
Married Alice ?, 9 June 1911; until Alice's death, 12 May 1944.
Tod Browning was born of a well-to-do Kentucky family, but ran away from home at age 16 to join the circus circuit. Browning is reputed to have worked as a sideshow talker and a contortionist. His circus experiences held Browning in good stead as he transitioned into vaudeville, working as an actor, dancer, comedian and magician.
Browning's film career began with acting work for the Biograph Company in 1913. Browning continued to act in more than 50 films, but also began directing films in 1915 and worked as an assistant director on Intolerance (1916). He eventually became a contract director for The Universal Film Manufacturing Company, Incorporated. His fascination with circuses and their sideshows would carryover for years into his film work, but Browning is also remembered for his tough crime dramas — many of them featuring a gritty Priscilla Dean.
Browning's renowned work with actor Lon Chaney began with The Wicked Darling (1919) at Universal and continued throughout the 1920s when both were contracted at Metro-Goldwyn-Mayer Pictures Corporation. Their MGM collaborations include The Unholy Three (1925), The Blackbird (1926), The Road to Mandalay (1926), The Unknown (1927), London After Midnight (1927), The Big City (1928), West of Zanzibar (1928) and Where East is East (1929).
Browning is best known for having directed the iconic Dracula (1931), but is also remembered by film buffs for directing the cult classic Freaks (1932), which is situated in a circus sideshow, and the atmospheric Mark of the Vampire (1935). Browning directed his final film in 1939.
References: Website-IMDb; Website-Wikipedia.