Silent Era Home Page > Home Video > Clara Bow: Discovering the 'It' Girl

Reviews of silent film releases on home video.
Copyright © 1999-2017 by Carl Bennett
and the Silent Era Company.
All Rights Reserved.

Clara Bow
Discovering the 'It' Girl
(1999)

The documentary Clara Bow: Discovering the 'It' Girl (1999) was produced for Turner Classic Movies by Hugh Munro Neely and Elaina B. Archer, and originally was released on VHS by Kino International as part of their Bow series. Narrated by Courtney Love, the documentary is a sweeping chronological dash through the life of Clara Bow.

Tearing through the life of Clara Bow at the pace of one of her flapper films, the documentary covers a handful of career and personal highlights. It paints B.P. Schulberg (probably rightly so) as a money-grubbing and exploiting producer with no care or concern for the mediocre material provided for his star, an attitude reminiscent of Paramount's earlier breakneck exploitation of actor Wallace Reid. The documentary in passing touches on Clara's relationships with Gilbert Roland, Victor Fleming, Gary Cooper, John Gilbert, Norman Kerry and Bela Lugosi. Also noted is The Coast Reporter's smear campaign against Clara Bow (pursued obviously to boost the circulation of the tiny southern California newspaper), Clara's intimidation by the sound film microphone, and Bow's release from her Paramount contract in 1931 at age 25. Her marriage to actor Rex Bell in Las Vegas, her two films for Fox Film Corporation, and the birth of her two sons give us a view of her life in the 1930s. Clara's growing distain for public life, Rex's 1944 campaign for Nevada state senator and his later election as Nevada's Lt. Governor is sketched as giving rise to Bow's attempted suicide in the early 1950s. She is ultimately painted as a latter-day recluse who, from the late 1950s until her 1965 death, lived in solitude in a small house in Los Angeles.

While the documentary is a good introduction to the life and career of Clara Bow, we feel that it is regretably too superficial to be satisfying over multiple viewings but also think that the many delicious exerpts from Bow films justifies revisiting the documentary from time to time. We feel the documentary would have benefited exponentially from additional running time beyond its 65 minutes. — Carl Bennett
Kino on Video
2001 DVD edition

It (1927), black & white, 72 minutes, not rated,
with Clara Bow: Discovering the 'It' Girl (1999), color and black & white, 65 minutes, not rated.

Kino International, K195, UPC 7-38329-01952-5.
Full-frame 4:3 NTSC, one single-sided, single-layered DVD disc, Region 1, 4.5 Mbps average video bit rate, 192 kbps audio bit rate, Dolby Digital 2.0 mono sound, English language intertitles, no foreign language subtitles, chapter stops, standard DVD keepcase, $29.95.
Release date: 20 February 2001.
Country of origin: USA

Ratings (1-10): video: 8 / audio: 8 / additional content: 7 / overall: 7.

The documentary includes interviews with Bow's childhood friend Catherine Mulligan, son Rex Bell Jr., Budd Schulberg (son of producer B.P. Schulberg), Helen Tuttle (daughter of director Frank Tuttle), Diana Serra Cary (child actress Baby Peggy), Leonard Maltin, biographer David Stenn, producer A.C. Lyles, actress Marion Schilling, Bow friend Marge Marshall, and an audio exerpt from Bow costar Charles 'Buddy' Rogers.

The documentary also includes motion picture exerpts from Mary Pickford's Cinderella (1914), Clara's debut film Beyond the Rainbow (1922), Down to the Sea in Ships (1922) the first film in which audiences actually saw Clara, Helen's Babies (1924) with Edward Everett Horton, Black Oxen (1923), Poisoned Paradise (1924), Black Lightning (1924), Empty Hearts (1924) which was recovered in 1991, My Lady of Whims (1925), Free to Love (1925), Parisian Love (1925) released by Kino in their Clara Bow series, The Plastic Age (1925) also released by Kino, Dancing Mothers (1926), Mantrap (1926), exerpt from a trailer for Rough House Rosie (1927), It (1927), Wings (1927), two exerpts from Get Your Man (1927) with Buddy Rogers and listed as being "from original decomposing nitrate," a promotional film for Hula (1927), Clara's first sound film The Wild Party (1929), Dangerous Curves (1929), The Saturday Night Kid (1929), Love Among the Millionaires (1930), True to the Navy (1930) with Rex Bell, No Limit (1931), Kick In (1931), an early 1930s clip of Clara and Rex Bell on their 600,000 acre ranch in Nevada, Call Her Savage (1932) for Fox, and Hoopla (1933) her final film, including a brief outtake from the film.

The main feature of the disc is the full-length presentation of It (1927). Audio rarities included are exerpts from the song "Magnolia," written about Clara Bow, and a 1950s wire recording of Clara reading exerpts from Shakespeare that sounds as though it has been transferred to and transcribed from a 78 RPM record.

This edition has been discontinued and is now out-of-print.

USA: Click the logomark to purchase this Region 1 NTSC DVD edition from Amazon.com. Your purchase supports the Silent Era website.
Canada: Click the logomark to purchase this Region 1 NTSC DVD edition from Amazon.ca. Your purchase supports the Silent Era website.

Other silent era CLARA BOW films available on home video.

Other silent era-related DOCUMENTARIES available on home video.
SUPPORT SILENT ERA
USING THESE LINKS
WHEN SHOPPING AT
AMAZON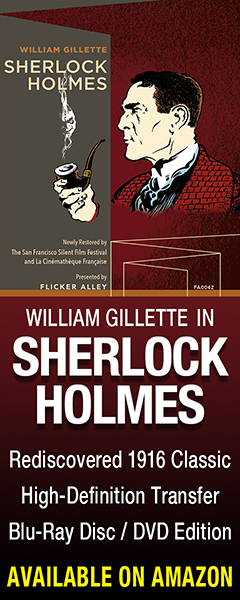 Silent Era Ads
Early Women Filmmakers: An International Anthology (1902-1943). Films by Blaché, Weber, Dulac and more!

PREORDER
from Amazon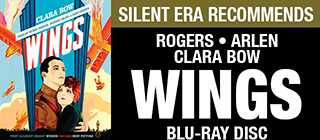 Silent Era Ads
Irvin Willat's
Behind the Door (1919) starring Hobart Bosworth, Jane Novak and Wallace Beery.

PREORDER
from Amazon