Reviews of silent film releases on home video.
Copyright © 1999-2018 by Carl Bennett
and the Silent Era Company.
All Rights Reserved.
The Student
of Prague
(1913)
Balduin the student is the toast of Prague, but is despondent over being broke. A not-so-chance encounter with Satan, disguised as Scapinelli, results in a deal for one-hundred thousand pieces of gold in exchange for the use of whatever he should desire in Balduin's apartment. Scapinelli lays claim to the foolish student's soul — represented by his corporeal mirror reflection — in typical satanic sneakiness.
Balduin is endulging his fascination with the countess Margit, but is unnerved by the reappearance of his animate double and the indignance of the Margit's betrothed, her cousin (sick!), the baron Waldis-Schwarzenberg. Challenged to a sword duel, Balduin is compelled to spare his rival, but is undone by the killing of the baron by his ghostly doppelganger.
Margit refuses to see Balduin after her fiancé's death, but is swayed when he steals into her house. All their reconciliation is unravelled when she discovers that he no longer has a mirror reflection — and it appears suddenly in the room. Whereever Balduin flees he is intercepted by his devilish double. The spectral chase is culminated in the ultimate triumph of the impish Scapinelli.
Director Stellan Rye's staging is distractingly clumsy in places, with characters lurking aimlessly and inexplicably unseen in the background of shots. Paul Wegener's acting is peppered with the archaic gesticulations and the mawkish expressions of a stage ham. And John Gottowt's Scapinelli is as self-conscious as any other Gottowt performance. But this early feature film was one of the earliest examples of was became known as the German Expressionist movement in motion pictures, and maintains a marginal degree of cinematic importance as such. — Carl Bennett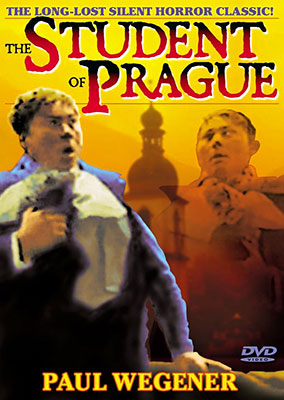 Alpha Video
2004 DVD edition

The Student of Prague (1913), black & white, 41 minutes, not rated.

Alpha Video, ALP 4412D, UPC 0-89218-44129-4.
One single-sided, single-layered, Region 0 NTSC DVD disc, 1.33:1 aspect ratio image in full-frame 4:3 (720 x 480 pixels) interlaced scan MPEG-2 format, 6 Mbps average video bit rate, 192 kbps audio bit rate, Dolby Digital 2.0 stereo sound, English language intertitles, no foreign language subtitles, chapter stops; standard DVD keepcase, $6.98 (raised to $7.98).
Release date: 25 May 2004.
Country of origin: USA

Ratings (1-10): video: 2 / audio: 5 / additional content: 0 / overall: 3.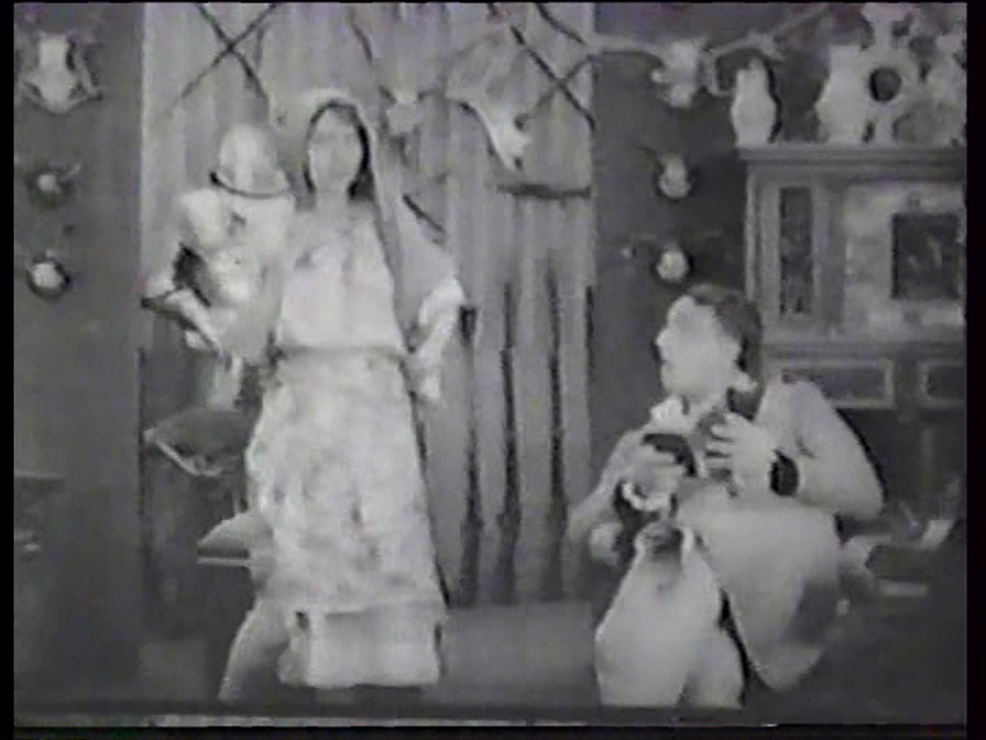 Alpha Video scored a minor coup by being the first to release this film in an American DVD home video edition. However, this disc appears to have been mastered from a VHS videotape copy edition, prepared from what appears to be a good 8mm reduction print, rendering a disc of poor visual quality. The low resolution of the VHS video master further degenerates the lack of fine image details in the already subpar source material, which has the usual problems of poorly-manufactured reduction prints: contrasty greytones with loss of highlight details and with murky, plugged-up shadows. The print is dusty and spliced in a few places. The moving image, nonetheless, remains of just-sufficient quality to follow the action and (occasionally) see the shadings of a subtle facial expression. Alpha Video has also provided new English language intertitles and insert shots of letters.
The new synthesizer musical accompaniment by Paul David Bergel does a passable job of emulating a pipe organ, and strives to create an eerie atmosphere. But it has also received some criticism for being amateurish, repetitious and unpleasant. However, any original accompaniment is at least a notch better than unrelated canned music assembled only for the sake of filling silence. At least Alpha Video has seen fit to expend some money for an original score to accompany the film despite the disc's low cost.
USA: Click the logomark to purchase this Region 0 NTSC DVD edition from Amazon.com. Your purchase supports the Silent Era website.
Canada: Click the logomark to purchase this Region 0 NTSC DVD edition from Amazon.ca. Your purchase supports the Silent Era website.
United Kingdom: Click the logomark to purchase this Region 0 NTSC DVD edition from Amazon.co.uk. Your purchase supports Silent Era.