People active in the silent era and people who keep the silent era alive.
Copyright © 1999-2018 by Carl Bennett and the Silent Era Company.
All Rights Reserved.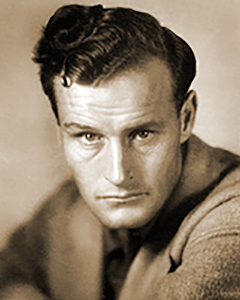 Photograph: Silent Era image collection.
William A. Wellman
Born 29 February 1896 in Brookline, Massachusetts, USA, as William Augustus Wellman.
Died 9 December 1975 in Los Angeles, California, USA, of leukemia.
Married [?] Renée ? in February 1918; until her death, 1918.
Married actress Helene Chadwick in September 1918; divorced, 6 September 1923.
Married actress Margery Chapin in 1925; one child; divorced, 28 August 1931.
Married Marjorie Crawford, 22 December 1931; divorced, 9 March 1933.
Married dancer Dorothy Coonan, 20 March 1934; seven children; until William's death.
William A. Wellman began motion picture work on the encouragement of Douglas Fairbanks, who cast Wellman as an actor in The Knickerbocker Buckaroo (1919). Wellman did not like acting and soon began working odd jobs at motion picture studios to gain industry experience. His uncredited directorial debut came at Fox Film Corporation when Wellman stepped in for ailing director Bernard J. Durning on The Eleventh Hour (1923). Fox executives liked his work and gave Wellman directorial assignments on Buck Jones films beginning in 1923.
Wellman directed for Fox Film Corporation in 1923-1924, Columbia Pictures Corporation in 1925 and Metro-Goldwyn-Mayer Pictures Corporation in 1926. With his credentials firmly established, Wellman became a contract director at Famous Players-Lasky Corporation in 1926 and was in position to accept the assignment to direct Wings (1927). The film featured star Clara Bow and relatively-unknown male leads Charles 'Buddy' Rogers and Richard Arlen. Wellman, who had flown planes in World War I, wanted on-camera realism and insisted that Rogers and Arlen learn to fly and pilot their planes for their aerial appearances. Gary Cooper made an all too brief appearance in the film, but the role made him a star. Wings became a tremendous critical and commercial success, and won the first Academy Award® for Best Picture.
An established success, Wellman went on to both produce and direct some of his subsequent films for Famous Players-Lasky. Legion of the Condemned (1928) featured new star Cooper and Fay Wray, and Ladies of the Mob (1928) featured Bow and Arlen. Unfortunately, these intriguing films are today presumed to be lost. Beggars of Life (1928) starred Arlen, Louise Brooks and Wallace Beery in a gritty portrait of American hoboes based on the popular novel by Jim Tully. Wellman made the transition to sound films in 1929.
William A. Wellman would go on to direct some of the most highly-acclaimed films of the 20th century: The Public Enemy (1931), A Star is Born (1937), Nothing Sacred (1937), Beau Geste (1939), The Ox-Bow Incident (1943), The Story of G.I. Joe (1945), Island in the Sky (1953) and The High and the Mighty (1954).
References: Website-IMDb; Website-Wikipedia.