People active in the silent era and people who keep the silent era alive.
Copyright © 1999-2018 by Carl Bennett and the Silent Era Company.
All Rights Reserved.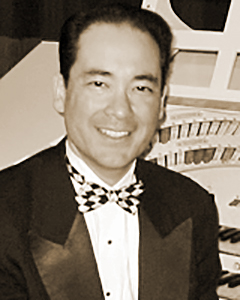 Photograph: courtesy Robert Israel.
Robert Israel
Robert Israel has been hailed as ". . . one of the world's finest practitioners of the art of silent film accompaniment." A protege of the legendary theatre organist Gaylord Carter, he made his professional debut at the age of 17.
Robert has performed before such silver screen greats as Douglas Fairbanks Jr. and Charles 'Buddy' Rogers as well as entertaining contemporary audiences in such venues as UCLA's Royce Hall and the Los Angeles Conservancy's "Last Remaining Seats" series. In October 2002, Robert was, for the ninth year, named music director by the Academy of Motion Picture Arts and Sciences. This was a tribute to legendary silent screen great Charlie Chaplin for the Academy's new restoration of The Circus (1928), in which Mr. Israel conducted his orchestra performing Chaplin's own music.
A resident of Los Angeles, Mr. Israel is featured regularly at film festivals held at the Los Angeles County Museum's Bing Theatre and at UCLA's James Bridges Theatre. He also appears as guest lecturer and performer for various cinema schools throughout southern California.
In addition to live performances, Israel and his orchestra have recorded musical scores for films released by Turner Entertainment, Sony Pictures Entertainment, Kino Lorber in cooperation with Film Preservation Associates and Flicker Alley. Mr. Israel's television work has included composing scores for the television series Biography on the A&E Channel.
In 2003, Robert had created new symphonic scores for the Flicker Alley presentations of F.W. Murnau's Phantom (1922) and Louis Feuillade's 12-part French serial, Judex (1916), both for Turner Entertainment. This followed several other impressive scores for Turner Entertainment. These works include a new four-hour reconstruction of Erich Von Stroheim's masterpiece Greed (1924), the Lon Chaney classic Tell It to the Marines (1927), a compiled representation of the lost Lon Chaney classic London After Midnight (1927), and more than twenty new scores for the films of Harold Lloyd for the Harold Lloyd Trust and Turner Classic Movies, including eight feature films and several short subjects by Lloyd.
Robert Israel has performed as soloist and orchestra conductor throughout the United States, Japan and Europe, including film festivals in Italy, Germany, France, England, the Netherlands and the Czech Republic.
References: Flicker Alley website.